Huawei Band 7, Activity tracker bracelet, 3,73 cm (1.47 inches), AMOLED, 180 mAh, Waterproof, Black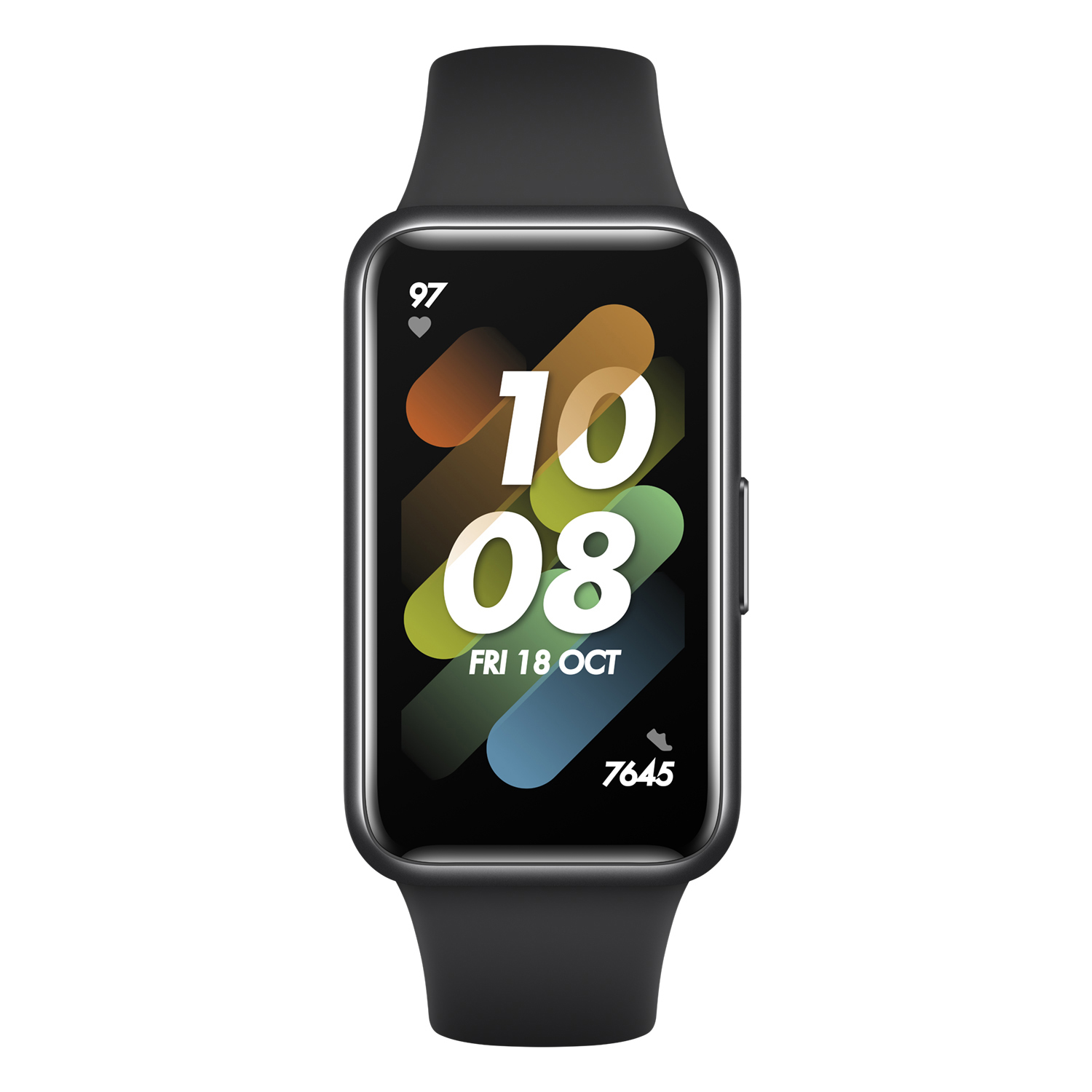 General

| | |
| --- | --- |
| Display type | AMOLED |
| Screen diagonal | 3,73 cm |
| Screen resolution | 368 x 194 Pixel |
| Device type | Activity tracker bracelet |
| Form factor | Rectangle |
| Product colour | Black |
| Heart rate sensor type | Optical |
| Battery life | 14 day(e) |
| Battery | Yes |
| Rechargeable/battery technology | Lithium Polymer (LiPo) |
| Battery capacity | 180 mAh |
| Weight | 16 g |
| Wide | 44,4 mm |
| Depth | 26 mm |
Connections and interfaces

| | |
| --- | --- |
| Bluetooth | Yes |
| Bluetooth version | 5.0 |
| Bluetooth Low Energy (BLE) | Yes |
| WLAN | No |
Design

| | |
| --- | --- |
| Device type | Activity tracker bracelet |
| Form factor | Rectangle |
| Product colour | Black |
| Colour name | Graphite Black |
| Housing material | Carbon Fibre Reinforced Polymer (CFRP) |
| Bracelet colour | Black |
| Ribbon material | Silicone |
| Proposed gender | Unisex |
| Customizable | Yes |
| Closure type | Single sink harness buckle |
| Waterproof | Yes |
| Waterproof until | 50 m |
| Water resistance | 5 ATM |
| Control | Buttons, Touch |
Power

| | |
| --- | --- |
| Battery life | 14 day(e) |
| Battery operated | Yes |
| Rechargeable/battery technology | Lithium Polymer (LiPo) |
| Battery capacity | 180 mAh |
| Battery | Yes |
| Loading time | 1,08 h |
| Charging voltage | 5 V |
| Charging source | USB |
Features

| | |
| --- | --- |
| Heart rate monitor | Yes |
| Heart rate sensor type | Optical |
| Active minutes | Yes |
| Calories burnt | Yes |
| Distance traveled | Yes |
| Pedometer | Yes |
| Hours slept | Yes |
| Sleep quality | Yes |
| Personal goals | Yes |
| Tracking exercise | Yes |
| Location position | No |
| Accelerometer | Yes |
| Gyroscope | Yes |
| Call notifications | Yes |
| Date display | Yes |
| Weather display | Yes |
| Battery charge indicator | Yes |
| Caller identification | Yes |
Services

| | |
| --- | --- |
| Display type | AMOLED |
| Screen diagonal | 3,73 cm |
| Screen resolution | 368 x 194 Pixel |
| Touchscreen | Yes |
| Color display | Yes |
Weight and dimensions

| | |
| --- | --- |
| Weight | 16 g |
| Wide | 44,4 mm |
| Depth | 26 mm |
| Thickness | 9,99 mm |
Operating conditions

| | |
| --- | --- |
| Operating temperature | -10 - 45 °C |
System requirement

| | |
| --- | --- |
| Supported mobile operating systems | Android 10, Android 10.0, Android 11.0, Android 12.0, Android 6.0, Android 7.1, Android 7.1.2, Android 8.0, Android 9.0, iOS 10.0, iOS 11.0, iOS 11.4, iOS 12, iOS 13, iOS 14, iOS 14.5, iOS 15, iOS 9.0, iOS 9.1, iOS 9.2, iOS 9.3 |
Scope of delivery

| | |
| --- | --- |
| Cables supplied | USB |
| Charging station | Yes |
| Number of tapes included | 1 |
| Quantity per pack | 1 piece(e) |

 

1.47" (194 x 368) AMOLED - Bluetooth 5.0 BLE - 180 mAh - 5 ATM - 44.35 x 26 x 9.99 mm - 16 g
Group
Wearables
Manufacturer
Huawei
Manufacturer Art. No.
55029077
EAN/UPC
6941487257645
 

Unlimited power in a small format
The impressive AMOLED display sits almost weightlessly on the breathable wristband that loosely wraps around your wrist. The ultra-slim edges highlight the content on the display so you can fully concentrate on your favorite content.

Your Style
With the stunning colors Graphite Black, Wilderness Green, Nebula Pink and Flame Red, all moods and facets of life are reflected on your wrist.

Always a fresh watch face
With over 4,000 great watch faces4 and the Always-on Display (AOD) that shows you all the important info even when the display isn't on, you'll be ready for whatever the day brings!

Thephases of the moon on your wrist
The new watch face shows you the eight phases of the moon, from new moon to quarter moon to full moon, so you're always close to the magic of the night.

Your favorite photo on your wrist
With the HUAWEI Health app, you can make a memorable watch face from your favorite pictures, keeping your favorite animal, a beautiful moment, or an iconic image always in view.

A battery like no other
The battery is more than up to all your activities: whether business trips, vacations, or running workouts. Experience up to two weeks of battery life with typical use2 and up to 10 days of heavy use. Get the power boost you need when you're in a hurry with HUAWEI's exclusive fast charging feature. It gives you enough power for two days of use after five minutes of charging!

Your smart
assistant for all occasions
With the HUAWEI Band 7, you always have your life in full view - from essential phone functions such as incoming calls and messages, to the weather and the ability to control your music.8 With the smartband, you can even take a spontaneous snapshot on your smartphone9 or send quick replies to messages!